What is the CPR?
EU REGULATION NO. 305/2011
CPR = Construction Product Regulation
The CPR regulation concerns all construction products which are to be incorporated in a permanent manner in buildings and civil engineering works (e.g. households, industrial and commercial buildings, o ces, hospitals, schools, underground rail networks etc.).
All cables permanently installed in construction works, both communication and power cables, copper and bre cables, irrespective of voltage, must be classi ed according to the relative installation environment.
OBJECTIVE OF THE CPR
The aim of this Regulation is to ensure the free circulation of construction products within the European Union, providing a harmonised technical language to de ne the performance and essential characteristics of these products with a view to minimising the risk for people and goods and reducing the risk of re.
ART. 2.1 OF THE CPR: CONSTRUCTION PRODUCT
"'Construction product' means any product or kit which is produced and placed on the market for incorporation in a permanent manner in construction works or parts thereof and the performance of which has an e ect on the performance of the construction works with respect to the basic requirements for construction works."
REACTION-TO-FIRE CLASSIFICATION
Cables are classi ed into
7 reaction-to- re classes, identi ed using the letters 'F' to 'A' and subscript 'ca' (cable), based on their performance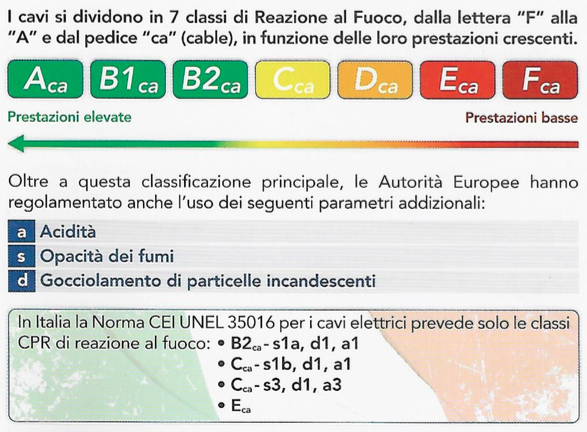 La Dichiarazione di Prestazione (DOP)
Quando un prodotto da costruzione rientra nell'ambito di applicazione di una norma armonizzata o è conforme a una valutazione tecnica europea rilasciata per il prodotto in questione, il fabbricante redige una dichiarazione di prestazione all'atto dell'emissione di tale prodotto sul mercato.
The GTL Srl company has taken the following steps in light of the introduction of the CPR Regulation:
– Information bulletin released on the Construction Product Regulation (CPR) – EU Regulation no. 305/2011– The following disclaimer can now be found on the transport documentation supplied with delivered CPR cables: "By purchasing this product, the buyer undertakes to properly use the cable in accordance with the Construction Product Regulation (CPR) – EU Regulation no. 305/2011, rendering the seller Go-At Topline Srl and any third parties exempt and free of any liability regarding its use".– The following advisory note is now displayed on every GTL product label: "Users are advised to properly use this cable in compliance with the Construction Product Regulation (CPR) – EU Regulation no. 305/2011". –Finally,an extra label is now placed on every CPR cable skein displaying the CE marking, QR code which links to the accompanying manufacturer's label, our lot code and a description of the cable itself (see side image).